Well this time I have done something that has done before, but I believe I have a improved version! A Mame table top cabinet running off of a netbook pc (Which is also battery powered!). This is a Christmas Gift to my Aunt, Uncle and there Kids. I have produced MAME Machines before, but this one was completely from scratch. My others I have taken original Cabs and stripped them empty and added all of the components (NBA Hangtime Cab). This one I used 1/2 MDF board and built this off the top of my head. I already had the netbook, so I based some of my measurements from that.
Supplies Needed-
-1/2 MDF (3/4 could work as well)
-Plexiglass
-Netbook (I used a eeepc 901)
-iPac 2 Player ( Link here to Ultimarc.com )
-Buttons and Joystick (Link here to Happ Controls)
-Label Paper (Full page @ local Office Supply Stores)
-Assorted Tools, Wire and Screws
-1 1/8" hole saw
First I started off tearing apart the screen on the netbook. This allowed me to get some exact screen measurements so I could be sure I would have the clearance. Sorry I do no have any pictures of this, and since every netbook is different, yours probably will be. Just take a quick google search if you not comfortable doing this yourself.
After determining the dimensions, I cut out my pieces with my MDF board. I made all of the pieces and predrilled the holes so it would not split. Then, using a router, I cut out the plexiglass using the MDF as my stencil. Plexi is hard to cut, so go slowly.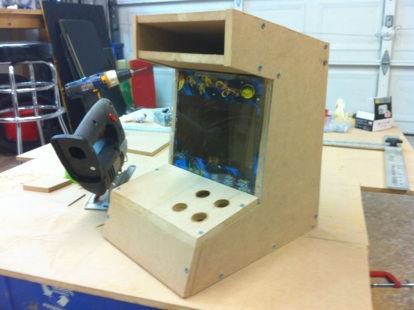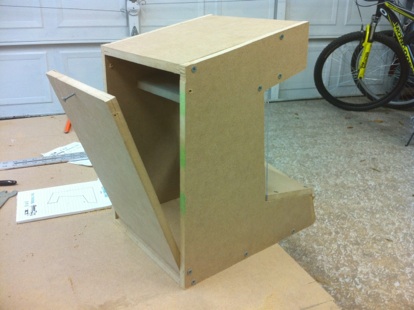 I left the back to swing open so it would allow me to work on it, but also to be able to access the body of the netbook. This gave me a mouse and keyboard always on inside of the machine. I also went ahead and predrilled the holes in the wood for the controls and joystick. (not all are done at the time of the picture). Also as a side not. Dont try to cut the plexi with a holesaw, doesnt work as well as you would like. I applied the plexi to the machine, then use d a dremel with a cutting bit. This acted like a mini router, and cut the plexi perfectly. I then removed the plexi and painted it black.
And then had to add artwork. I am giving this as a gift to my uncle and his kids, so I went with a Galaga theme. He has always said he wants a Galaga Arcade cab :-). The graphics I used are HERE (Arcade Art Gallery). But you can obviously use any art work you would like! I then reapplied the plexi over top of the graphics to give it a glossy look, but also protects the artwork from wear.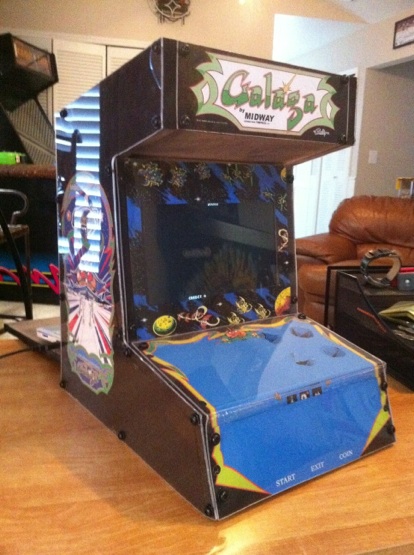 Then I added all of the buttons and wired them up. This is an easy process. Once you get the Ipac, youll see that they make it very user friendly. I went ahead and added molex connectors to make it easy to disconnect things if I ever had to. After adding the controls, I went ahead and wired up and mounted the LCD from the netbook. This was actually easy. I just took a piece of MDF, cut it to fit where the screen would go, then i set it back the same as the screen is deep. This allowed the screen to be flush. I used the stock mounting hardware and screwed it right to the wood.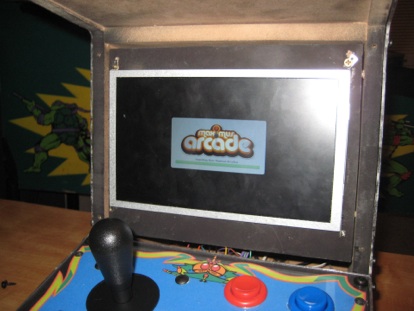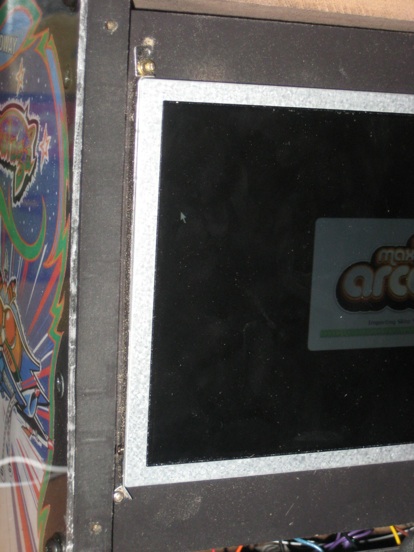 I also cut a hole in the MDF right behind the connector of the LCD so I could easily run it right to the computer. I mounted the computer directly to the back of the cab that is hinged for access. There I also mounted the ipac and a wiring diagram. As you can see in the picture below, there is no room to plug a USB cable into the computer. So I soldered it directly to the board. Very similar to my LCD Apple Logo project. (link HERE). I also added a power button to the top of the cab and soldered it directly to the board. Makes it easy to turn off and on.
That is pretty much all that is needed! I am using Maximus Arcade (link HERE) to run the machine, which I highly recommend. Makes having multiple emulators and easy task! Now just enjoy! have any questions, send me an email!