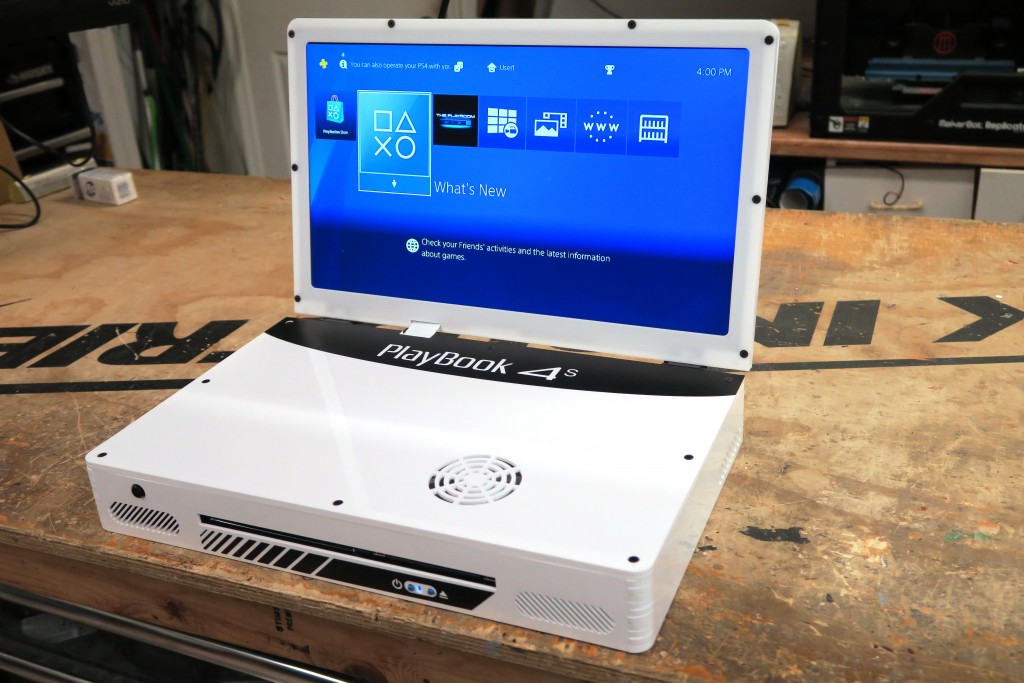 *PLEASE NOTE* I am in no way affiliated with Sony or Playstation. The PlayBook is simply a console modification for a Sony PS4. This is not a licensed Sony Product and should not be confused as such. It is a custom made item by EdsJunk.

Well for all of the Sony Fans out there, the wait is over! I now introduce the PlayBook 4 Slim! The new 19″ LCD portable PS4 Laptop by EdsJunk! This thing is not only sweet, but practical and has really been a fun project to work on!
So I have been making these for about a month or so now trying to figure out exactly how I was going to come up with it. I took a lot of what I designed for the XBOOK ONE S and redesigned it to fit the new PS4. It ended up, like the XBOOK, very portable and clean.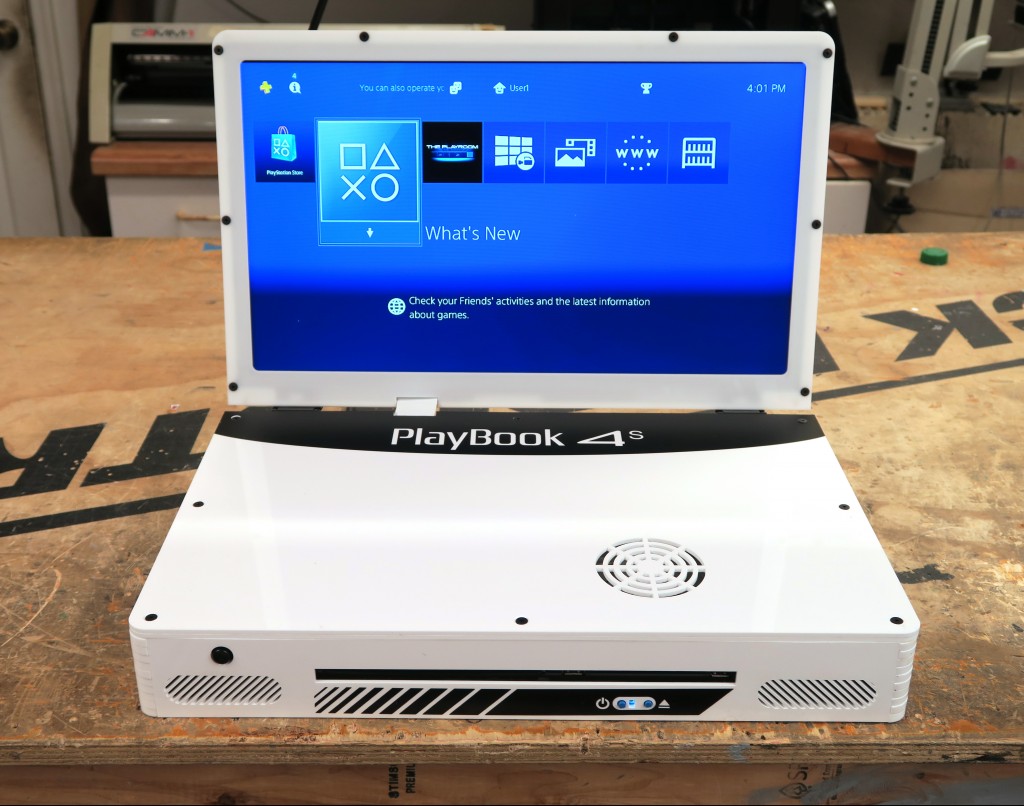 Once you open up the PlayBook 4 S you will be surprised at how big the 19″ screen actually is for the size of the system. I tried my best to keep as small as a bezel as I could around the LCD without compromising the integrity of the case. The screen sits at a good height while the hinges provide enough tension to be able to adjust the angle of the screen as you wish. Below you will notice a couple of stereo speakers and TV control along with the BluRay drive, 2 USB and a power and eject button.
The speakers provide loud crisp audio, while the small black TV controller button allows you to adjust the volume along with other TV settings, like brightness and contrast. The screen is HD, but only supports 720p. Unfortunately it is next to impossible to find 1080p screens in the 19″ size. But, the HDMI in the back will support full 1080p output to your external Big screen at home!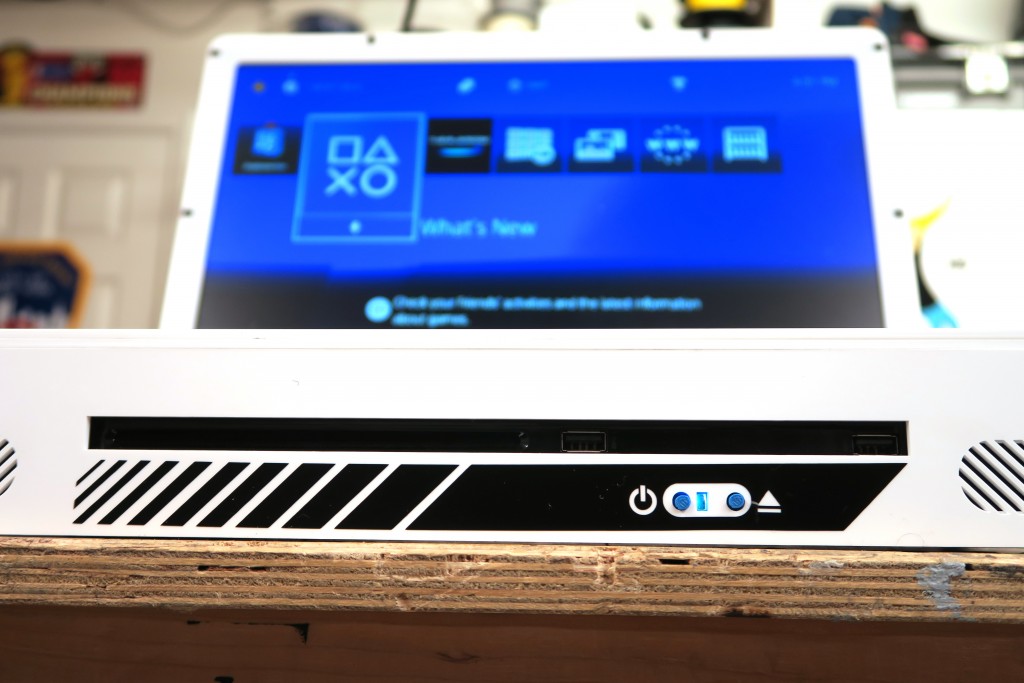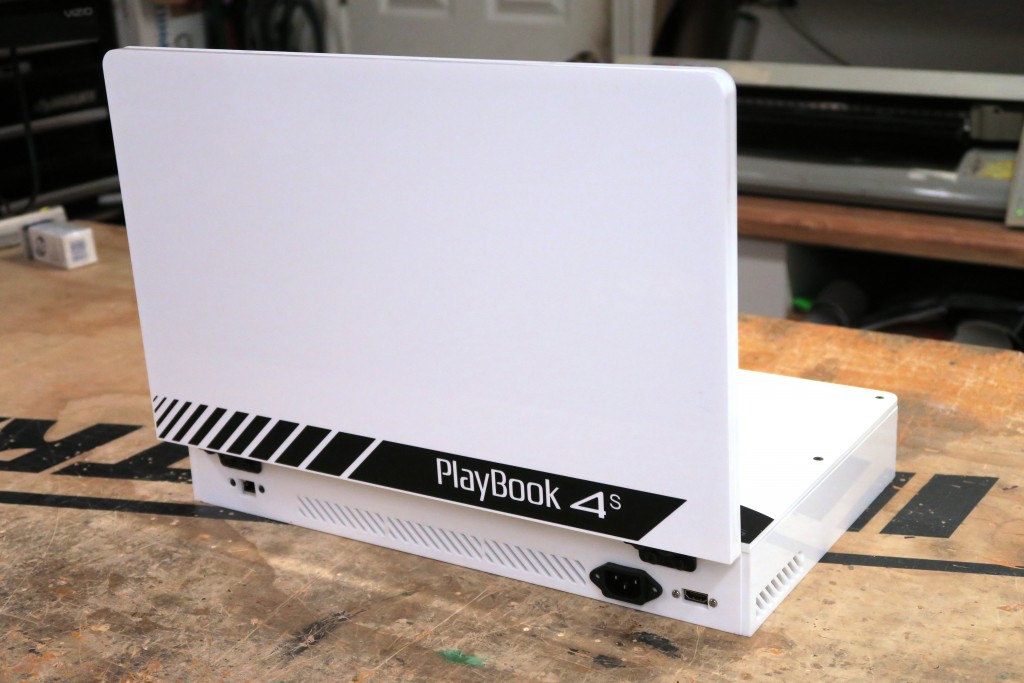 On the back of the system you will notice more air vents to keep the PS4 nice and cool. On either side of the vents you have a ethernet port for wired internet access (and yes, Wi-Fi still works just fine!) and then power and HDMI out. The HDMI out is great for still being able to use the PS4 on your large screen when your at home. Please note, when using it at home, you can turn off the LCD and still get HDMI out, also you must keep the screen open for the PS4 to keep cool.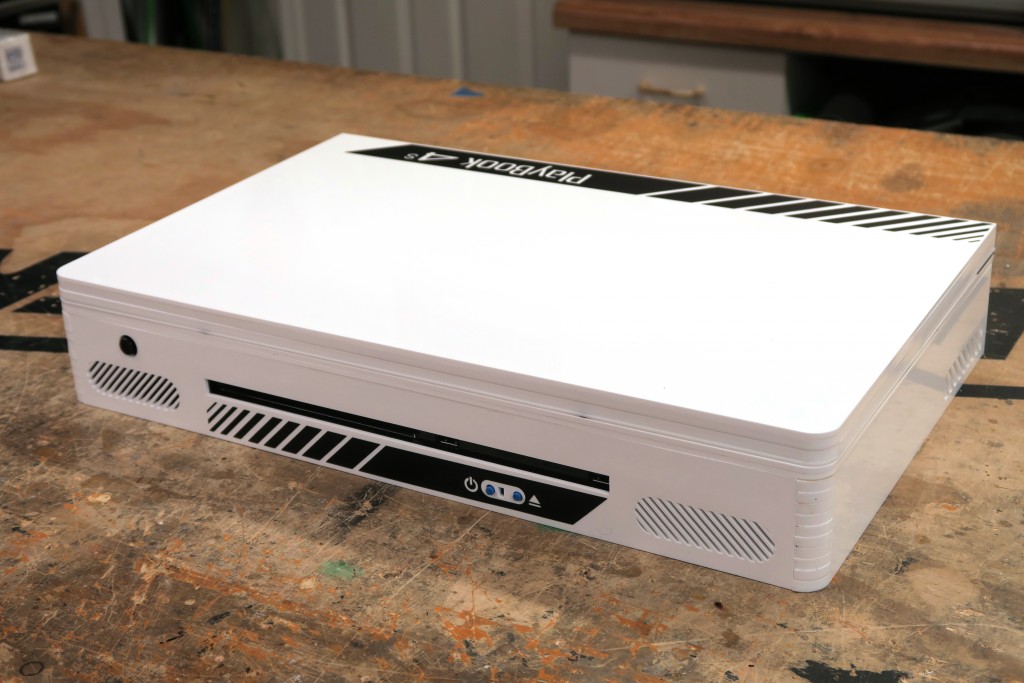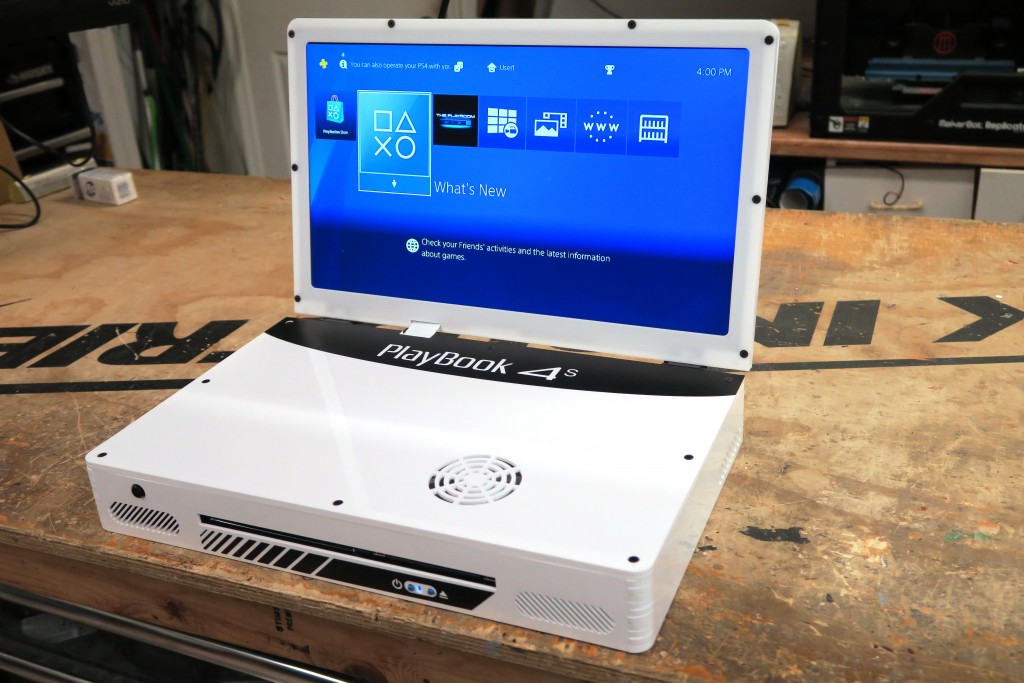 So can you get one of these PlayBooks? Of COURSE! I build these to order and you can have your own custom PS4 that you can not get in the store! Make your friends jealous when you have your PS4 on trips and they don't! Although you can still share 😉
You have some options for your custom PlayBook. First off, you may choose either white or black for the main case color. Then you can also choose the color of the accents, for those pretty much any color can be chosen. Also I will offer to put your Gamertag on the system if you choose. After you place your order, please email me the details of your system. Also you may put in the colors under the notes section of PayPal. If you want a custom themed PlayBook, you will need to contact me directly as pricing on those system is more.
Also New to this system is the ability for it to be used overseas. The internal components are all rated at 110/220v power so there should be no need to used a step down transformer for this. Please note over seas shipping is much more than in the 48 states.
Pricing is simple. Here is the breakdown.
Complete PlayBook 4 System is going to be $1,495.00 plus shipping. If you want to ship me your PlayBook 4 S console, the cost will be $1,195.00. For a small fee, I will upgrade the HDD to a bigger size, price depends on size and if your looking for a HDD or SDD. Flat Rate Express Shipping of $150.00 to 48 US States Please contact me first if your international or at a APO or similar.
Heres how the ordering will work. Click the Paypal button on the bottom of this site and you will pay $750.00 upfront nonrefundable deposit. This gets your name put on the list (trust me, its gets full quick) and gets me working on your PlayBook. After its completed, you will pay the remainder and shipping and your PlayBook will be shipped out! Once I start on your unit, it will take 2-3 weeks to complete. There may be people in front of you, so be aware of that and it could take longer. If you have any questions at all, please go to my contact page HERE and send me a message! I will be in contact with you through the building process and will make it personalized for you!
So total is $1,495.00
Use Paypal to pay the $750.00 Deposit
Remaining due before shipped
Here is also a peak at the PlayBook 4 Pro. I did this as a commissioned job from one of my clients. Has no detail work on it yet, still figuring that out. I don't have these setup to sell right now. That being said, if someone is interested, we could do another commission for a 24″ PlayBook 4 Pro! Note that the price will be more than the slim system.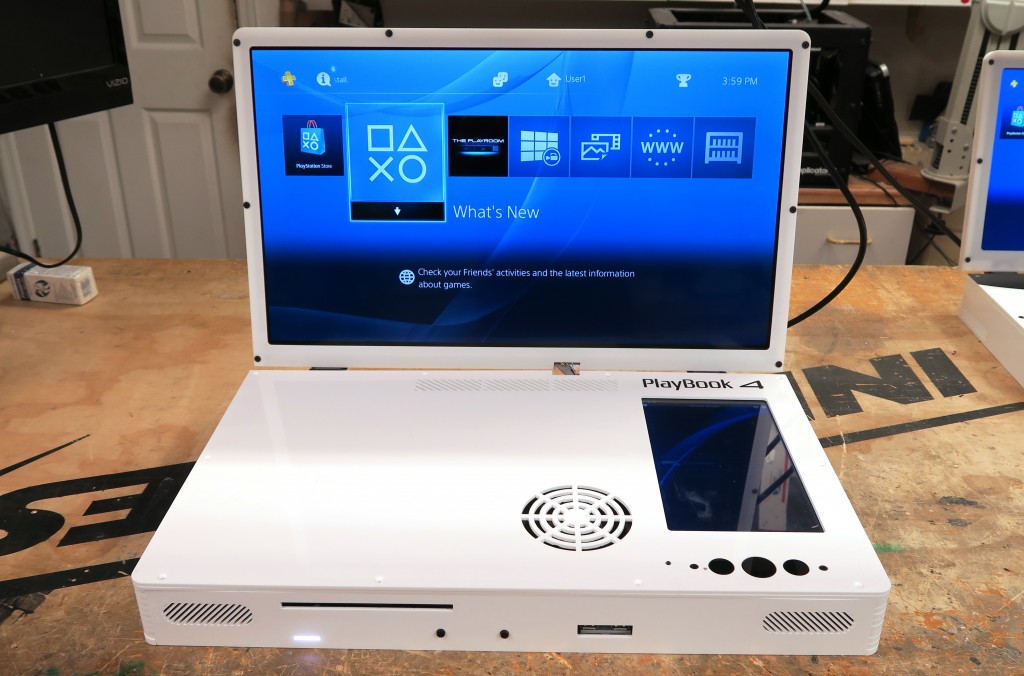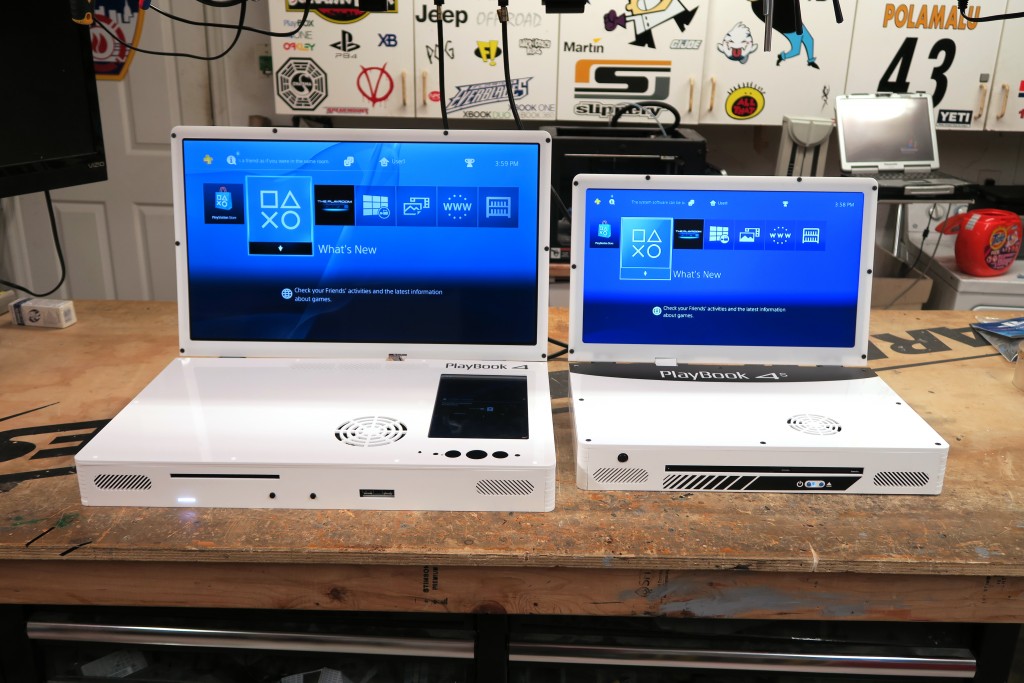 Inside this unit is a Sony PS4 Slim. The PS4 has not been altered in any way that would be illegal on PSN. It has no performance modification or enhancements. The PlayBook is simply just a plastic case that holds a PS4 inside with a LCD Screen. I am in no way affiliated with Sony or Playstation.  It does not have a ps4 warranty as you loose the warranty as soon as you take a PS4 apart. I will guarantee it will not be DOA. It is non returnable as these are custom made for each individual buyer. Also, please note any overseas shipping may be subject to import tax for your specific country.
*PLEASE NOTE* I am in no way affiliated with Sony or Playstation. The PlayBook is simply a console modification for a Sony Playstation 4. This is not a licensed Sony Product and should not be confused as such. It is a custom made item by EdsJunk.