*PLEASE NOTE* I am in no way affiliated with Microsoft or Xbox. The XBOOK is simply a console modification for a Microsoft XBOX One. This is not a licensed Microsoft Product and should not be confused as such. It is a custom made item by EdsJunk.
Well everyone I am back at it! I just finished up the new slimmer, smaller and sleeker XBOOK, the XBOOK ONE S. Of course you guys can guess why… the XBOX ONE S came out just last week and I had to tear one apart! So I did. And the new XBOOK was born.
This new system is beautiful! I wanted this new system to have a simplistic and professional feel about it. I did my best to get it as slim as possible using thinner materials where I could, but adding thicker/stronger material in important areas. This is a technique found in all laptops and I wanted to adapt that. The XBOOK is made almost entirely out of strong acrylic, although I wont say its rugged but it is a solid system.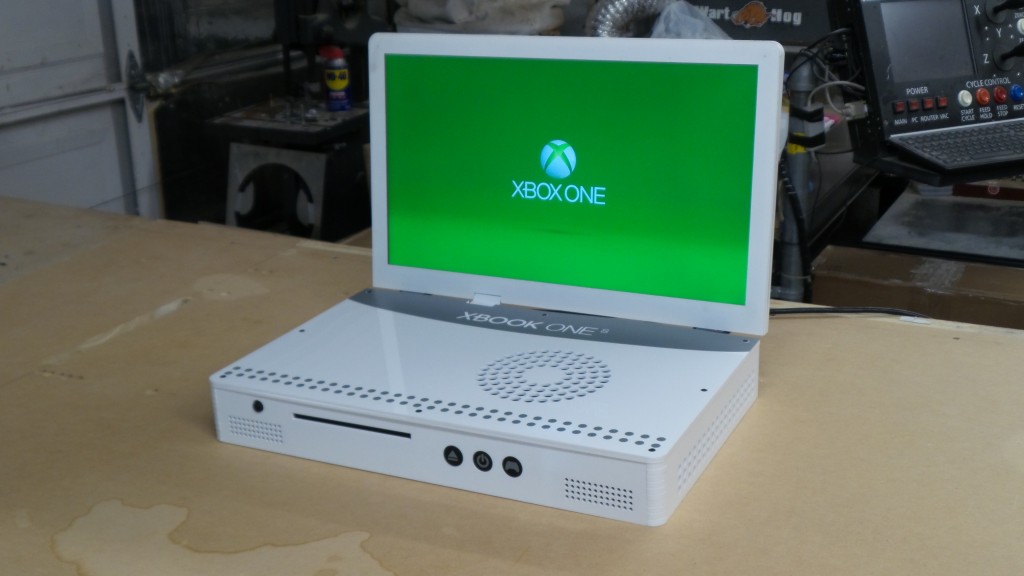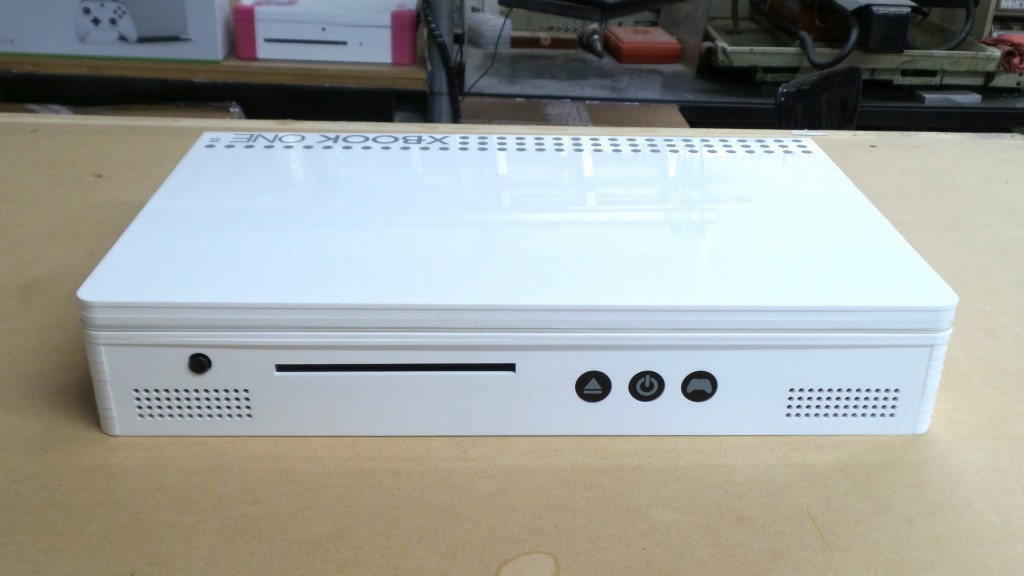 On the front of the XBOOK you will see the two speakers, these were designed to point right towards you and can get pretty loud! above the left speaker is a small black joystick, this is the TV control. This allows you to turn on and off the LCD, adjust the volume along with menu controls. Included is a remote for the TV for fine tuning. Next the that is the XBOX Bluray drive. This system is capable of 4K video (through HDMI out to a compatible  TV) and does look good. Next up is the disk eject, power and controller sync for the XBOX inside. All you have to do is plug in power and push the power button and your off to gaming! This system is not battery operated due to the large power consumption of the components. It would end up making this system heavy and not giving you much play time if I added batteries inside.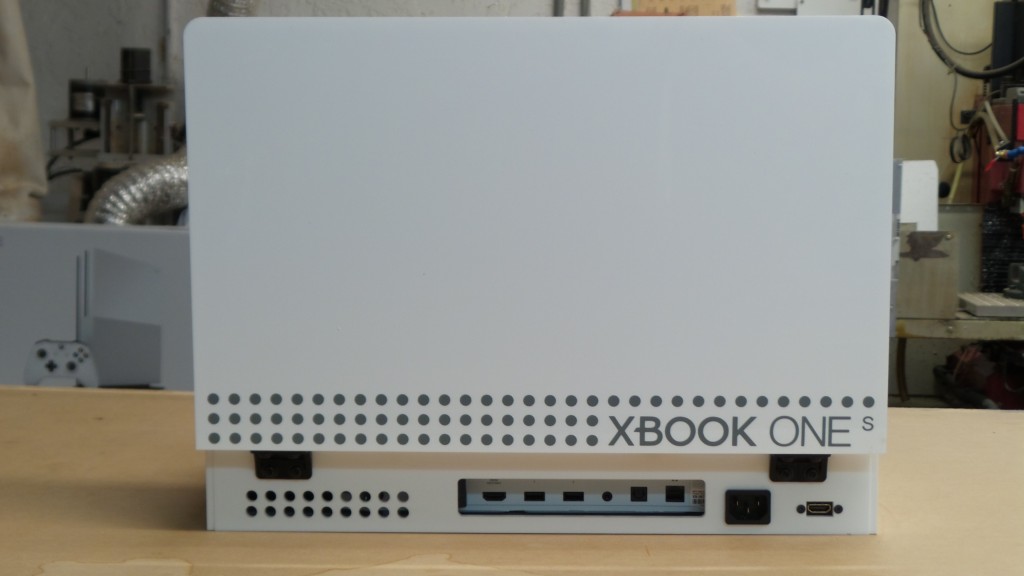 Onto the rear of the system we can see air vents on the left and then all of the ports. You have access to all of them. You have HDMI IN – Two USBs – IR Blaster – Optical Audio Out – Ethernet – Power in – HDMI Out (4k). The two normal plugs you would see that are covered up on the left would be the XBOX HDMI Out and Power. Well those are both used inside the system to give power and video to the LCD. But because we all want HDMI Out, a 4K HDMI splitter is installed inside and then routed to the far read HDMI port. So no worries everything is there!
I have been making XBOOKs for awhile now and for a lot of people. I normally get very good feed back and everyone loves them. I have been asked though for a smaller screen. When I put in the 22″ LCD into my previous XBOOK, I thought the bigger screen would be nice, but what turned out to happen was the system was slightly to big to be truly portable. A lot of people want to bring them on planes, or on tour buses and had a hard time with the 22″ system. So I am here to announce it is much smaller in size and weight! I used new techniques to get it lighter and slimmer and when you add that with the 19″ screen and the smaller XBOX ONE S, you get a pretty good looking system! Here is the new XBOOK next to the older version. The 19″ LCD is a Samsung HD TV. Now, being that it is only 19 inches, it resolution is at 720p. I had a hard time finding any LCD at that size with 1080p and the reason being that you can not tell the difference between the two at that size. Either way this system is designed specifically for on the go gaming. To have the full 4k XBOX ONE S resolution, plug it in at home to your big TV and sit back and enjoy!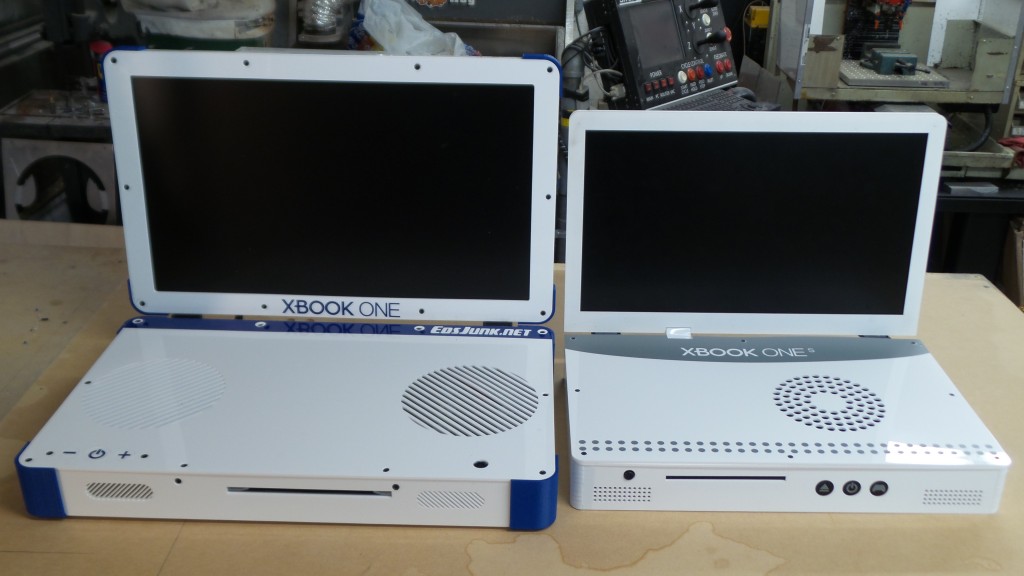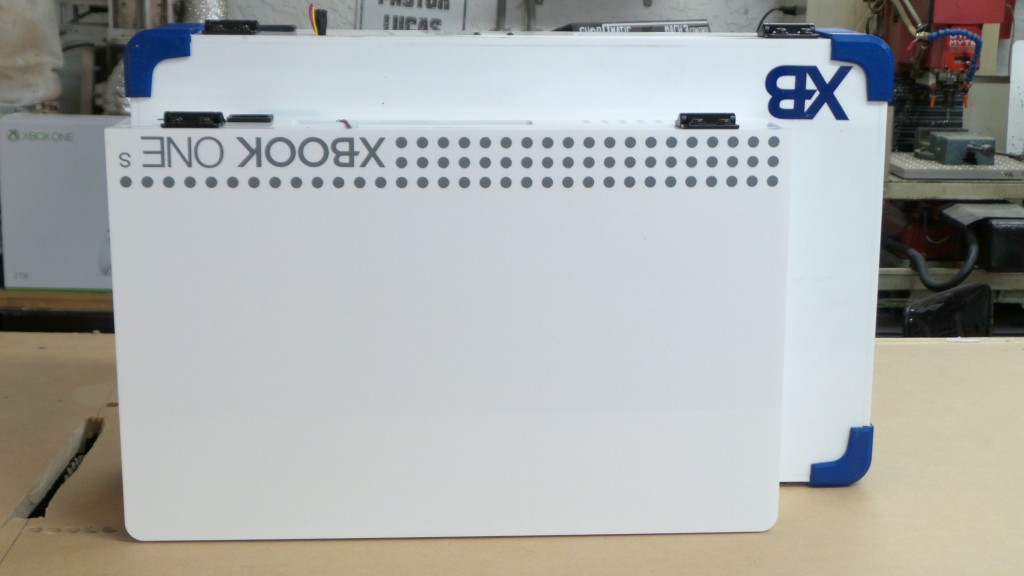 So can you get one of these XBOOKs? Of COURSE! I build these to order and you can have your own custom xbox that you can not get in the store! Make your friends jealous when you have your XBOX on trips and they don't! Although you can still share 😉
You have some options for your custom XBOOK. First off, you may choose either white or black for the main case color. Then you can also choose the color of the accents, for those pretty much any color can be chosen. Also I will offer to put your Live Gamertag on the system if you choose. After you place your order, please email me the details of your system. Also you may put in the colors under the notes section of PayPal. If you want a custom themed XBOOK, you will need to contact me directly as pricing on those system is more.
Also New to this system is the ability for it to be used overseas. The internal components are all rated at 110/220v power so there should be no need to used a step down transformer for this. Please note over seas shipping is much more than in the 48 states.
Pricing is simple. Here is the breakdown.
Complete XBOOK ONE S System (500GB) is going to be $1,495.00 plus shipping. To upgrade to the 1TB system, it will be an extra 50 dollars (upcost of the XBOX). If you want to ship me your XBOX ONE S console, the cost will be $1,195.00. Flat Rate Express Shipping of $150.00 to 48 US States Please contact me first if your international or at a APO or similar.
Heres how the ordering will work. Click the Paypal button on the bottom of this site and you will pay $750.00 upfront nonrefundable deposit. This gets your name put on the list (trust me, its gets full quick) and gets me working on your XBOOK. After its completed, you will pay the remainder and shipping and your XBOOK will be shipped out! Once I start on your unit, it will take 2-3 weeks to complete. There may be people in front of you, so be aware of that and it could take longer. If you have any questions at all, please go to my contact page HERE and send me a message! I will be in contact with you through the building process and will make it personalized for you!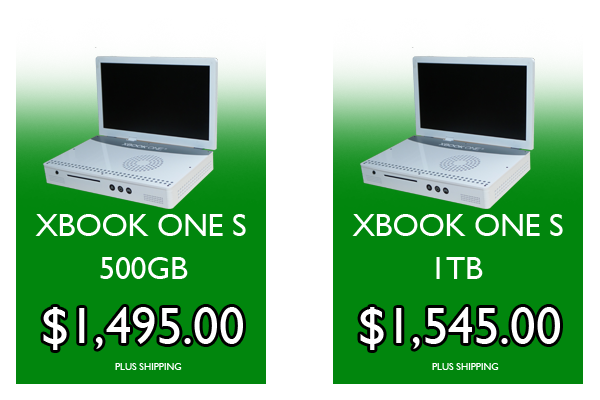 Use Paypal to pay the $750.00 Deposit
Remaining due before shipped
Inside this unit is a Microsoft XBOX ONE. The xbox has not been altered in any way that would be illegal on xbox live. It has no performance modification or enhancements. The XBOOK is simply just a plastic case that holds a XBOX inside with a LCD Screen. I am in no way affiliated with Microsoft or Xbox.  It does not have a xbox warranty as you loose the warranty as soon as you take a xbox apart. I will guarantee it will not be DOA. It is non returnable as these are custom made for each individual buyer. Also, please note any overseas shipping may be subject to import tax for your specific country.
*PLEASE NOTE* I am in no way affiliated with Microsoft or Xbox. The XBOOK is simply a console modification for a Microsoft XBOX One. This is not a licensed Microsoft Product and should not be confused as such. It is a custom made item by EdsJunk.