Well Guys I am back at it yet again! Today we we have a special edition for both systems! Captain America XBOOK ONE and a Iron Man PLAYBOOK 4. This is a great duo with the Captain America Civil War movie coming up next year. These systems both boast their own unique designs and features, along with the standard specs you have seen in my previous systems. Lets check them out!
Each system obviously looks different! They each are themed after the characters they resemble. You have the Captain America XBOOK ONE which has his Captain Rogers shield along with his uniform design and American colors. Then next to that you are looking at a Gold and hot rod Red Iron Man PLAYBOOK 4 which includes his armor, Arc Reactor and even Jarvis HUD on the inside.
First up lets look at the Captain America XBOOX ONE and see what else it has to offer.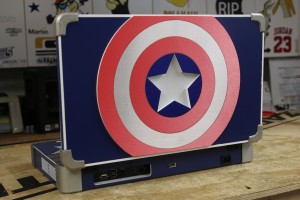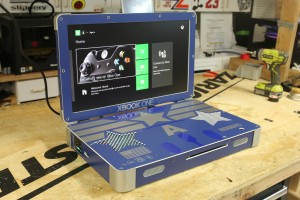 Not only does this system looks cool, it also has a couple unique features that I have only incorporated into this specific XBOOK. First off is design. The shield on the back of the system is using a brushed metal vinyl work on top of acrylic to give the shield depth and the illusion of metal. The star in the middle of the shield lights up when the XBOX is turned on and really does look stunning in person. The inside goes with Captain's uniform utilizing the middle silver star with accents around it. Seeing as the system needs to vent, it only seemed appropriate to use stars as the vents, so those were brought into the design. Now what makes this system unique you ask other than some decal work? Well it has a built in HD Capture card!
A Hauppauge HD PVR Rocket was installed into this system permanently. As you can see from the photo, all of the touch sensors and buttons are still accessible through the side of the unit. All you need to do is plug in a USB stick and a mic (if you want to narrate) and begin recording your session! This system records directly onto the USB stick, so all you need to do is plug it into your computer when your done, and your good to go! This is something I have been wanting to do for awhile and thought the Captain deserved such a mod!
Now Lets see how Iron Man stacks up against the Cap!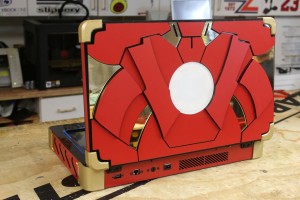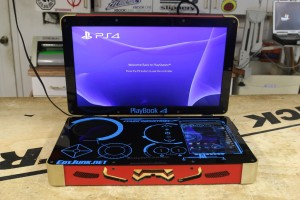 If you don't recognize Iron Man in this system, I do not know what will! This system was built from the ground up with Tony Stark in mind! I thought, when Tony is not working on his next Mk for a Iron Man and he wants to game… It has got to be through a PLAYBOOK 4 that looks like this! Clearly the only way to power such a beast of a system is to give it its own Arc Reactor centered in Iron Man Armor. This arc reactor lights up whenever the system is powered and gives it a great look! The otter shell is composed of Hot Rod Red Armor and Gold trim work, just to Mr Starks specs. Now when you think of what is inside Iron Man, the only logical answer is JARVIS. What is Iron Man without JARVIS?! The inside is made up Black Acrylic with Blue H.U.D. accents. Now what this system has that is unique to any other PLAYBOOK is a built in Android as a secondary screen!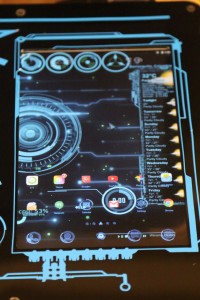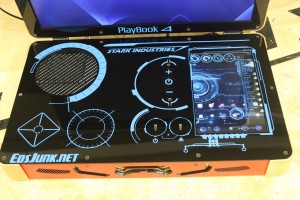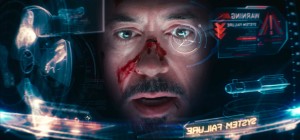 This Android is a 10″ screen and is not there only for looks… it has function! When the PS4 teams up with Android and PS4 App, they make quite the pair! You have the ability to control the PS4 directly from the touch screen, eliminating the need for a controller if say you only wanted to watch a movie. Also while playing a game, you can check you PSN updates, messages and notifications without leaving your game.. just look down at the second screen and your done! The Android will also act as a keyboard for when you need to input text into a game. Much easier than using the controller! It can also function as a normal android as well, allowing you to check your email, search the web for a walk though guide to the game, or play music! The Android charger is also built in, so when the system is on, the android is on! Pretty slick, and I don't think Tony would have it any other way!
Also a small, but cool feature to this system, is when you plug it in, you are greeted with a JARVIS voice and he lets you know when your preferences are done uploading and your online and ready! Check out the youtube Video to see it in action!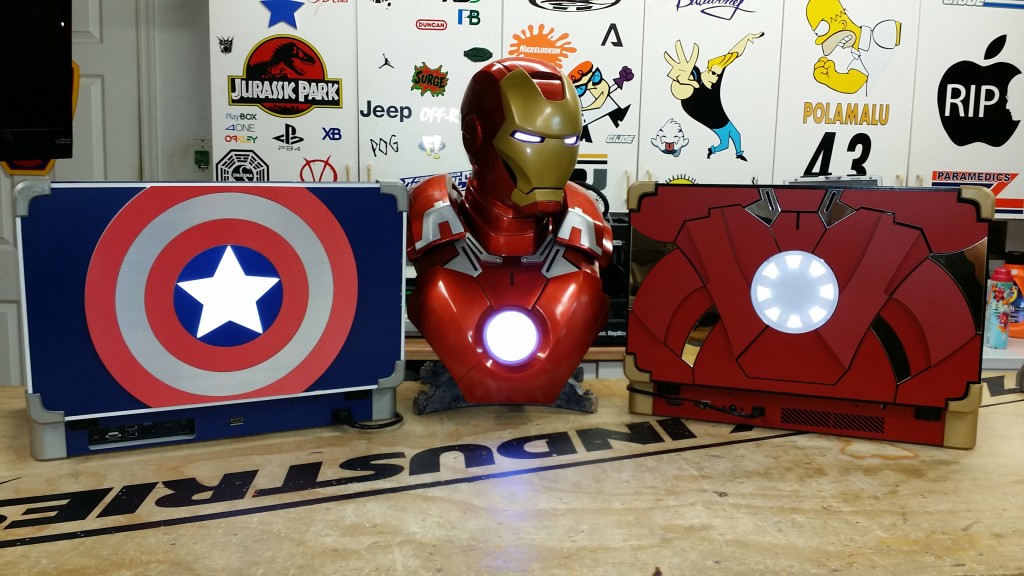 All in All these two systems and super unique and some of my best work to date. I wanted to top myself and do something different, but useful. I believe both systems has something for everyone and really are one of a kind items. These are not systems I plan on ever making again and was a one time deal. They took me MUCH longer than my standard systems to make and really show off their features.
If you are interested in purchasing a XBOOK or PLAYBOOK please check out www.xbookone.com or www.playbook4.com for more information!