*PLEASE NOTE* I am in no way affiliated with Microsoft or Xbox. The XBOOK is simply a console modification for a Microsoft XBOX One. This is not a licensed Microsoft Product and should not be confused as such. It is a custom made item by EdsJunk.
It was only a matter of time until I got around to making a XBOOK ONE! For those of you not familiar with my previous work on xbox laptops, I call them XBOOKs. I made quite a few of the XBOOK 360s over the last couple years, probably around 30 of them. But the xbox 360 is old news… out with the old, in with the new! So I now announce the XBOOK ONE! One of the first laptop mods for the Xbox One. Hope you like it as much as I do!
It all started about two months ago when I decided it was time to finally tear down a new xbox one… tear…. but I knew it would be worth the sacrifice of the xbox one to give birth to the XBOOK ONE! I wanted this new xbook to be cleaner, thinner, easier to build, and more over all more cool. The xbook 360 had a 19″ 720p screen, I wanted bigger and better! So I went with a 22″ LED LCD monitor. This things is incredible sharp, as it should be at 1080p resolution. I swear this thing looks better than on my big TV! On my old xbook, after playing long hours, my eyes would be tired of looking at a small screen, so I went with this bigger size, but all the while, I actually got the laptop another .25″ thinner. So the tear down began…….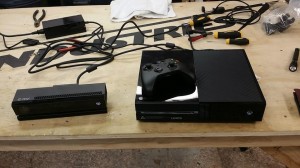 Since my last xbook build, I have acquired even more machines to help out with productivity. I have purchased two makerbot replicator 2s. (Check out my shop tour) These machines at first didn't do much around my shop, but now that I have found there niche, they have been a huge asset around the shop. I am printing the corner pieces, brackets, custom component mounts and such that I just wasn't able to do before. This has been HUGE in making the XBOOK ONE. It is giving me the opportunity to create things I just wasn't able to before. Here are some parts.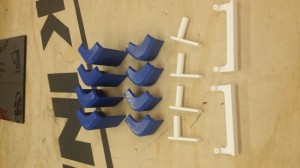 What is also different with 3D printing and to what I was use to with the laser and cnc router, is I now need to design in full 3D. There was a learning curve to this. But now that I understand it, it has also been a huge step in making these xbooks. I can now design the whole thing digitally and see what will fit and what wont. This also helps out tremendously for measuring parts. I sat down with Autodesk Inventor and drew up all of the parts and starting creating the XBOOK ONE. And then I was able to send each machine the parts it needs to make and then amazingly enough, everything matched up perfectly my first go! Which was impressive to me to say the least.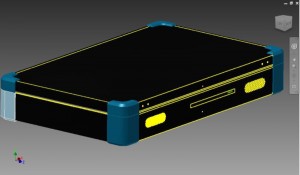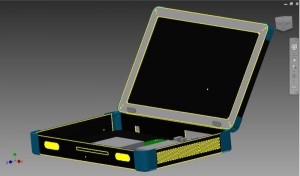 Some other things I have done better on this version compared to my last xbook is the LCD LVDS Cable. The ones that come with most monitors, like the Vizio I'm using, the cable from the controller board to the lcd is about 4 inches long. This doesn't play well when I'm trying to make a laptop. I need it much longer. I use to extend the cables myself, or have my good buddy Mike Burnette do it (There's your shout out Mike). This involved cutting each of the 30 wires and extending them all individually and soldering all of them. This took a couple hours and the cable was much bigger than it needed it be. Well I found a solution! I discovered a company that will make custom LVDS cables for me at the length and specifications I need! Yes, this cost money, but money well spent I say! Its much thinner cable and no solder points! It gives it that much more professional look! I also changed the location of the speakers from the LCD bezel to the front of the unit. I did this because the screen is so big, anything I can cut off of it will be space well saved. The volume controls, along with the xbox controls, are all on the inside of the unit now instead of the out. No reason in particular except that I wanted to.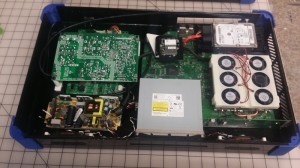 A custom fan shroud was 3D printed to help save space as well. The stock xbox one fan is really tall. I was able to get more CFM with these fans then the one big fan. So far I have had not a single heating issue and it seems to be cooling efficiently. You can also see in that picture above about where all of the components went, there are some slight differences in the production run of these XBOOKs, but you get the general idea! Also, using all laser cut acrylic gave me the ability to keep the lines clean. I was able to cut through the walls of the case exactly where they needed to be, like the bluray drive opening for example. Also I was able to laser cut all of the screw holes for the components and hinges so everything lines up perfectly when assembled. This again was a improvement over the old design. As for the motherboard of the xbox, it was not changed in anyway to make it illegal to play on xbox live. No performance mods were done and is basically a stock xbox inside. I did not move any of the ports either, but they are all still accessible in the back of the unit. So you can still plug in your Kinect, audio out, HDMI in, USB ports and such. By leaving the ports in the stock location, it keeps the integrity of the xbox whole. That way I don't have to worry about a faulty solder connection breaking over time. This just keeps the unit reliable. An optional HDMI output can also be added. Just pay for the extra components needed to include this. This unit can be fully customizable to your liking. The blue accents and corners you see on this unit can be any number of colors you want, there is a list on the bottom to choose. I can also change the color of the vinyl graphics and add your gamertag if you'd like. Everything is up to you!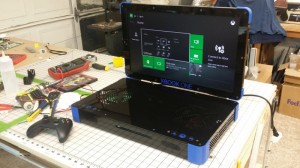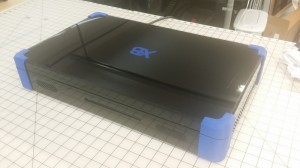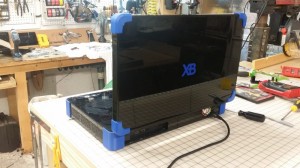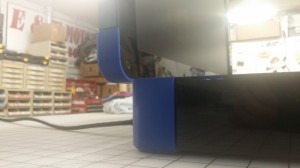 I can do full graphic customization if you want as well, it does cost more to do full custom work, but let me know.
Please note that there may be minor differences on the design of the unit, as in Screw Locations, Air Vents and buttons. These may only be minor changes that are actually improvements on the units design and function.
Also please note that these units run on 110v AC Power, if your an international customer and need to use 220v or 240v, please plan on using some sort of step down transformer as I do not give any guarantee on using the system on other power systems.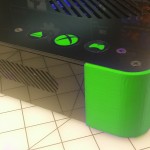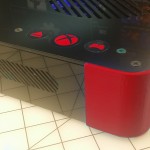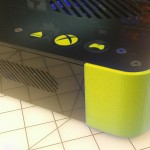 Here is some examples of custom designs that can be done to your XBOOK. It costs a bit more due to the time it takes to make a one of a kind product, but really does set your XBOOK apart from the rest! This one is the Call of Duty : Advanced Warefare Edition!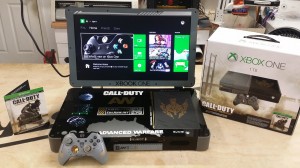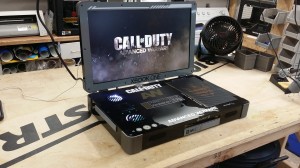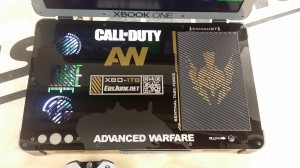 Inside this unit is a Microsoft XBOX ONE. The xbox has not been altered in any way that would be illegal on xbox live. It has no performance modification or enhancements. The XBOOK is simply just a plastic case that holds a XBOX inside with a LCD Screen. I am in no way affiliated with Microsoft or Xbox.  It does not have a xbox warranty as you loose the warranty as soon as you take a xbox apart. I will guarantee it will not be DOA. It is non returnable as these are custom made for each individual buyer.