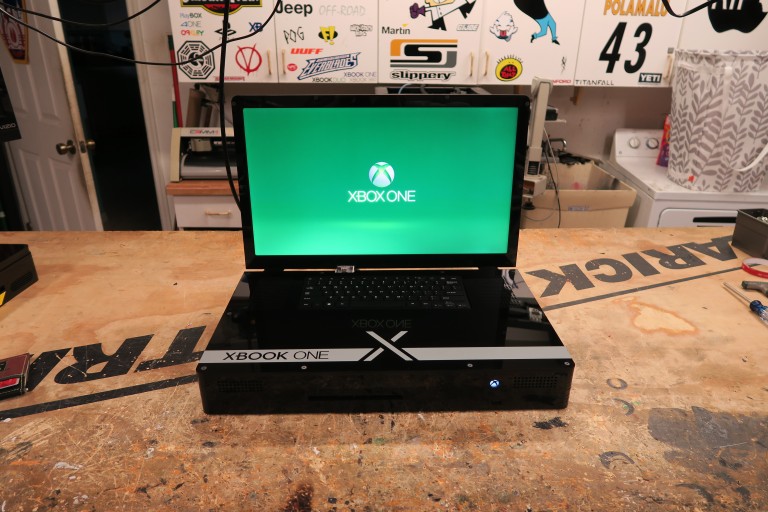 *PLEASE NOTE* I am in no way affiliated with Microsoft or Xbox. The XBOOK is simply a console modification for a Microsoft XBOX One. This is not a licensed Microsoft Product and should not be confused as such. It is a custom made item by EdsJunk.

Today I am posting up my version of the XBOX ONE X… The XBOOK One X! Yes, thats right, another gaming laptop! (Cant get enough of these I guess)  This is an actual XBOX ONE X that has been modified and put into a custom housing that gives it much more portability than a standard Xbox. This system houses an XBOX One X, a View Sonic 21.5″ 1080p Full HD Screen, Built in Audio and a keyboard.  The keyboard is something new I have added that gives you the ability to navigate through the system settings and type out messages much easier than an on screen keyboard (please note, if you ordered a system with a keyboard, you will loose one of the back USB ports)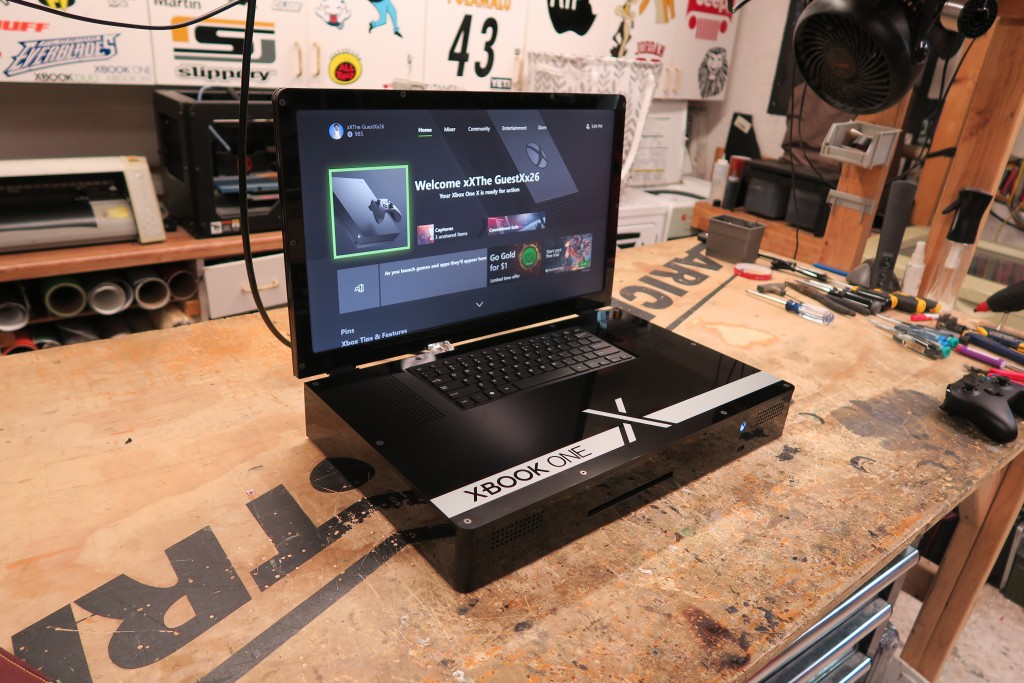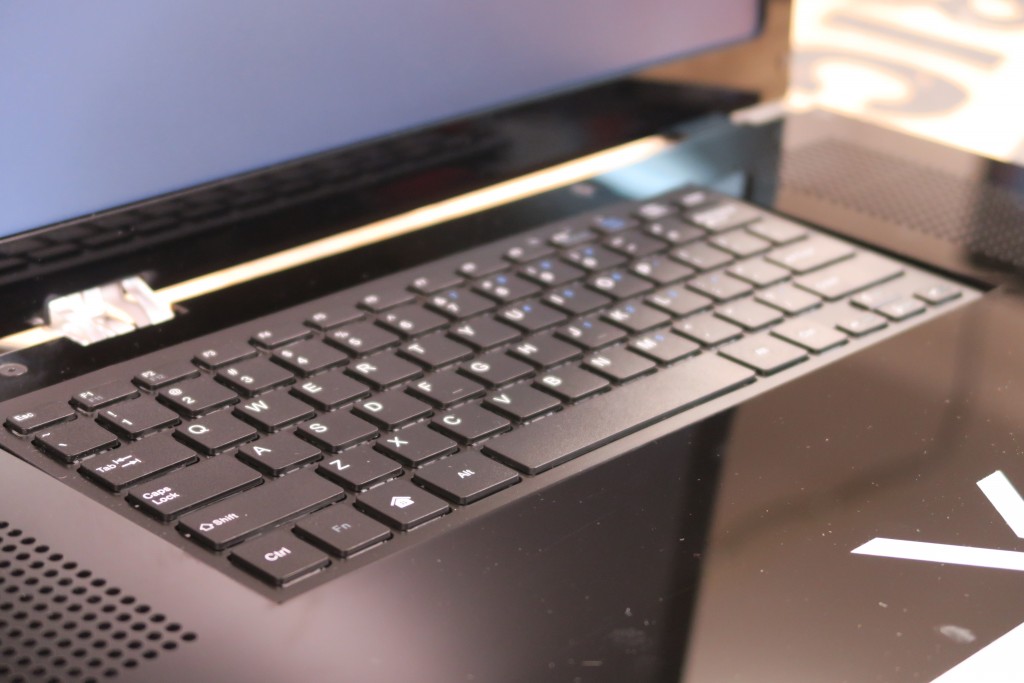 On the front of the system we have 5 buttons for controlling all of the functions of the LCD. It is an actual View Sonic computer monitor, so you can adjust the audio, screen settings ext right from the on board buttons. You also have the disk tray, power, disk eject and controller sync buttons as well. There is also one convenient USB on the front of the system. On the back of the unit you will be able to use HDMI Out (if ordered) to put the image on your big screen when you are at home in 4k! Next to those is going to be your power in, 2 USB ports (only one if you order the keyboard option), Ethernet and optical audio out. You only need one power plug to power this system on! Unfortunately there is no batteries in my systems due to the fact the XBOX is not designed to run on batteries and is very power hungry!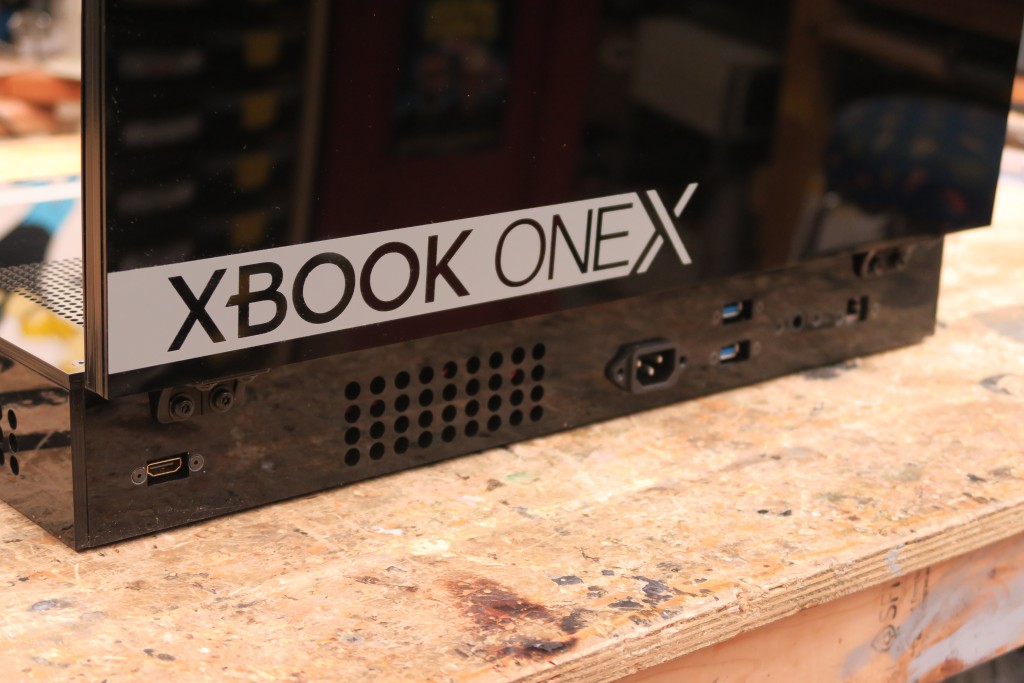 The system uses the stock XBOX cooling to keep the system running even when extreme gaming. The XBOX ONE X has a great fan and the heat sinks have not been modified in any way. The air is sucked through the bottom of the system and exhausted out the back!
Overall this is a great system if you want a bigger screen than my slim models of the XBOOK and Playbook. The 1080p 21.5″ screen is just gorgeous and plays really well! That being said, it does make it slightly less portable due to the increased size! But it is still way better than trying lug around a XBOX and a TV!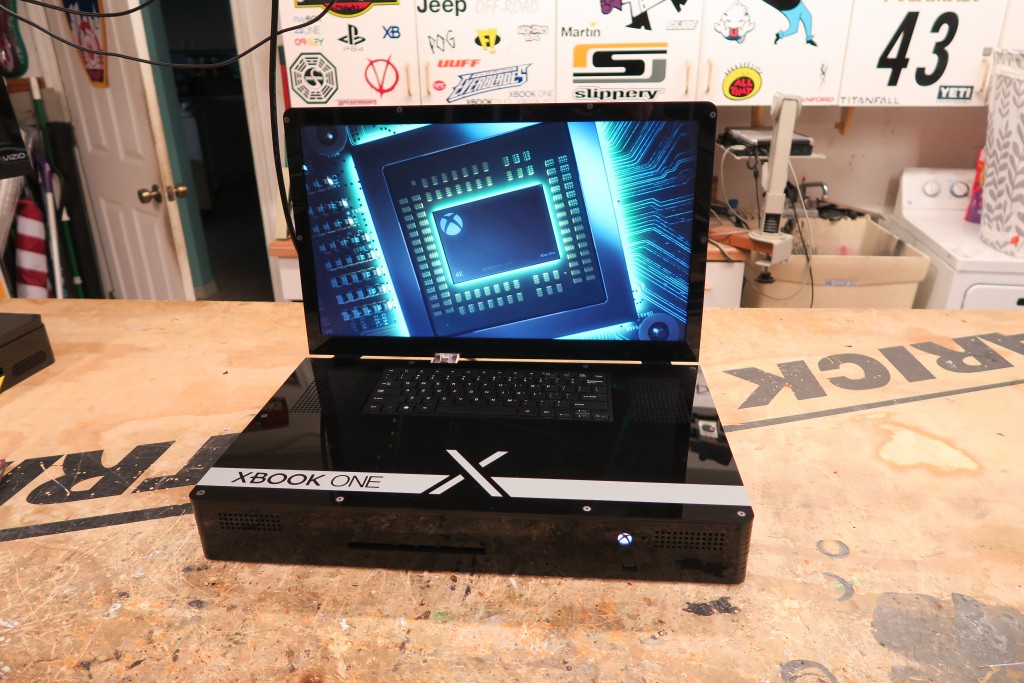 You have some options for your custom XBOOK. First off, you may choose either white or black for the main case color. Then you can also choose the color of the accents, for those pretty much any color can be chosen. Also I will offer to put your Live Gamertag on the system if you choose. After you place your order, please email me the details of your system. Also you may put in the colors under the notes section of PayPal. If you want a custom themed XBOOK, you will need to contact me directly as pricing on those system is more.
Pricing is simple. Here is the breakdown.
Complete XBOOK ONE X System (1TB) is going to be $2,495.00 plus shipping. Flat Rate Express Shipping of $150.00 to 48 US States Please contact me first if your international or at a APO or similar.
Heres how the ordering will work. Click the Paypal button on the bottom of this site and you will pay $1000.00 upfront nonrefundable deposit. This gets your name put on the list (trust me, its gets full quick) and gets me working on your XBOOK. After its completed, you will pay the remainder and shipping and your XBOOK will be shipped out! Once I start on your unit, it will take 2-3 weeks to complete. There may be people in front of you, so be aware of that and it could take longer. If you have any questions at all, please go to my contact page HERE and send me a message! I will be in contact with you through the building process and will make it personalized for you!
Use Paypal to pay the $1000.00 Deposit
Remaining due before shipped