The XBOOK ONE – The Xbox One Laptop is HERE!
THE NEW AND IMPROVED XBOX LAPTOP! I call it the XBOOK!
The XBOOK ONE – The Xbox One Laptop is HERE!
The last XBOX Laptop I made was a great little machine. It sold well on here and I brought it to so many LAN parties and got tons of compliments on it. I not only sold them to people that just wanted a xbox laptop to brag about, but also went to soldiers that used them all over the world. But at $1700 it was a bit out of reach for alot of people.
    I wasn't trying to charge alot to make alot. Alot of people would email me and offering me as little as 200.00 for one! I had to turn down alot of people because of how long it took me to build. Took me about 3 weeks of time from the CNC Machining to all of the soldering I would do. So I set out to make a new Xbox laptop that was not only better quality, thinner and better screen… but one that I could sell for much cheaper and could build quicker. So the idea of the XBOOK was born!
    Since my last xbox, I have acquired more machines to help me build this XBOOK. I got a bigger CNC Router as seen on my blog. This allowed me to make more parts at once and make it faster. I also purchased a Laser engraver/cutter. This has been extraordinary to use to cut acrylics. I also picked up a vinyl plotter that has been a life saver when it comes to the detail work and graphics on the XBOOK.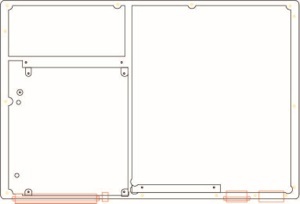 I took alot of time designing this xbox in cad drawings. It is made up of a total of 4 layers of black starboard plastic. Starboard is a marine grade polymer that hold up real well! Its VERY strong and comes in black so no paint that can chip off! Saves time and materials! Its of the same type of material that cutting boards are made out of. This stuff holds up WAY better than the older PVC material I used on the previous laptop. I then used Black acrylic for all of the outside covers and also the inside of the laptop. This allows for a nice glossy shine, but also gives something for the vinyl  to stick too as its hard to apply anything to starboard with adhesive.
All of the silver detail work on this is vinyl. This is all cut on my plotter and fits PERFECTLY on this XBOOK. It gives it a real professional look that is superior to the older laptop. All of this is customizable. You can pick pretty much any color for the graphics and also on the screen in between the speakers I can put your gamer tag in! (Or any other word you'd like).  I can not change the color of the black starboard. That is the only color it comes in (other than white) and you really cant paint it. But, that being said, all of the acrylic you can change the color of. That would be the Button panel, CD Tray, Ring of Light, side covers and the LCD bezel and inside of the XBOOK. I would have to special order the colors if you wanted something other than black for the acrylic, and would take a little longer to make and cost just a little more for materials. But I do have in stock like 30-40 colors of vinyl and will do any color you'd like! Just email me if you have any questions about that.
Now onto the screen! The old xbox laptop I made had a very nice 17" 720p HD monitor. This looked real good and made for a great display. But.. I wanted something better for this new one. I have upgraded this laptop to a 19" 720p HD LED Screen. This is very crisp and VERY bright. The LED Backlight is current technology and has a very even glow to it! It also makes the screen much thinner as well! The old 17" screen was nice but still felt a bit small. This 19" is perfect! You dont feel like you gotta sit real close to play!
Right below the screen is a pair of high powered speakers. It gets much louder than the previous version and also is positioned better. On the last one the speakers were on the bottom portion of the laptop and pointed up. On this, I placed them inside the screen bezel. This positions the speakers to point towards you. Gives a great stereo sound to them and even has good low end as well. This comes stock with a headphone jack as well so you can play in privacy if you'd like!
As you can see there are PLENTY of vent holes. I used the stock cooling of the XBOX 360 Slim, so its quite and cools just perfectly. I have no had one overheating issue yet with this one or any previous model. Just dont leave it on if you close the lid! On the side you still have access to the slims internal hard drive. Just unscrew a couple screws and slide it into place and your good to go! (Also if you want, I left enough room inside the laptop to plug in a portable HDD into one of the stock USB ports… this can open up alot of possibilities for more HDD space!) The ring of light along with the CD Tray and Buttons are located on the front along with 2 USD ports. These buttons are the best I've ever made. They are extremely professional and look good! Starting left to right, you have Power, CD Open, Sync, and Volume up and down. (If you'd like to access the configuration menu of the LCD, there are more buttons inside the unit to change any settings you'd like of the LCD itself)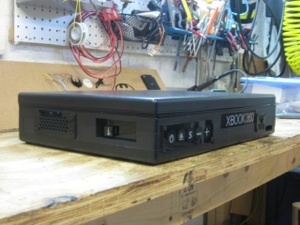 Onto the other side you have another vent and your ethernet port. This XBOOK comes with built in Wi-Fi so you can play xbox live without the worry of a cable. But hey, its there if you need it! If you'd like component video out, the second vent here is modular so I can add video out no problem. Currently the screen uses HDMI as the internal connection, but if you'd like video out, id have to switch the internal video to component. You will still get 720p High Def, but the internal screen wont be as great as HDMI. Thats all your choice!
On the back of the unit is a simple universal power supply cable. The XBOX's main power brick is located inside of the XBOOK. So no longer do you need to carry around a power brick either! And the LCDs power is pulled off that same cable on the inside. So it only takes a single cable to get this thing running! Please note that this does NOT have a internal battery. xboxs are not made to run off batteries. They are very power hungry and would eat through batteries extremely quickly, plus is weigh alot more!
Total weight of this unit is 17.5 Lbs. Thats not really heavy considering what your carrying! A xbox, Power supply, LCD screen, cables and a case all in one! The dimensions closed are 18.25"x12.25"x 3.5". This is bigger, but much thinner than the last one. Only reason its bigger is because of the the 19" LCD screen. But because of this same screen I was able to make it a 1" thinner! This really is a great machine that will be the envy of all your friends!
Now down to the real question… price…. Like I said, I wanted to make the most affordable XBOX laptop on the internet with my previous model, and I did. But with this one, I wanted it even cheaper! And I accomplished this goal as well! This XBOOK laptop starts at $995.00 USD. Thats right, UNDER $1,000.00!!! Thats for a brand spanking new XBOOK laptop with customizable options for you! You pick the vinyl color and free gamer tag personalization! If youd like it even cheaper, send me your XBOX 360 (must be the new style XBOX Slim) and ill knock off $200.00 dollars off the price!
So here is the Price info……..
4GB XBOOK 360 Laptop      $995.00
250GB XBOOK 360 Laptop  $1,095.00 (extra cost of the xbox slim)
Gamertag Personalization     FREE
Customized Vinyl Color        FREE
Customized Acrylic Color    $50.00
Optional Component Out     $50.00
Supply your own XBOX      -$200.00
Shipping is $50.00 in the continental US. Contact me if your outside of the US.
Heres how the ordering will work. Click the Paypal button on the bottom of this site and you will pay $500.00 upfront nonrefundable deposit. This gets your name put on the list (trust me, its gets full quick) and gets me working on your XBOOK. After its completed, you will pay the remainder and shipping and your XBOOK will be shipped out! Once I start on your unit, it will take 2-3 weeks to complete. There may be people in front of you, so be aware of that. If you have any questions at all, please go to my contact page HERE and send me a message! I will be in contact with you through the building process and will make it personalized for you!
Inside this unit is a Microsoft XBOX 360 Slim. The xbox has not been altered in any way that would be illegal on xbox live. It has no performance modification or enhancements. The XBOOK is simply just a plastic case that holds a XBOX inside with a LCD Screen. I am in no way affiliated with Microsoft or Xbox.  It does not have a xbox warranty as you loose the warranty as soon as you take a xbox apart. I will guarantee it will not be DOA and will give you a 30 day warrantee on the XBOOK to fix any problems it may have that is not from user abuse. It is non returnable as these are custom made for each individual buyer.