As seen on:
So here is the Tutorial for the Mod to turn your Apple logo into a LCD Secondary Monitor to display anything you want!
Again, this MacBook is on eBay for only 850.00. (HERE) My high bidder did not follow through and pay, so it is on eBay one last time. I will keep it if it doesn't sell this time.
List of Materials
1. MacBook (either Black or White, not sure if the new uni-body macs will work)
2. Century Japan 4.3" USB LCD (LCD-4300U) I have some on ebay HERE(LOWERED TO 135.00 from 200.00!)

3. USB LCD Mac Drivers by Display Link (HERE)
3. Clear Apple Logo from ibook or powerbook (Get them on ebay or HERE)
4. Solder and iron
5. Misc Tools

Guide

First off you need to get the drivers installed on your computer that you will be using and make sure you get the LCD working first. This is very simple, just download and install them and then plug in the USB LCD and it should act as a secondary monitor.
Ok first off you need to go ahead and disassemble your MacBook. Yes.. this WILL void the warranty. Use the guides at iFixit to remove your Logic Board and Screen (
HERE
). You are going to need to remove the screen from the bottom half of the computer.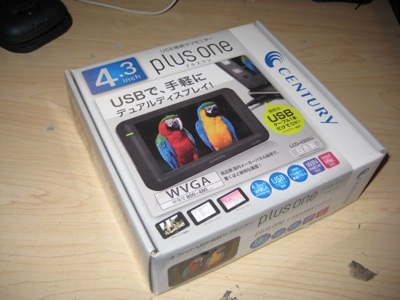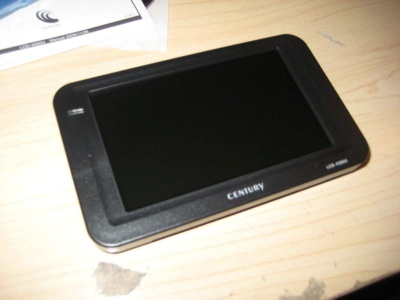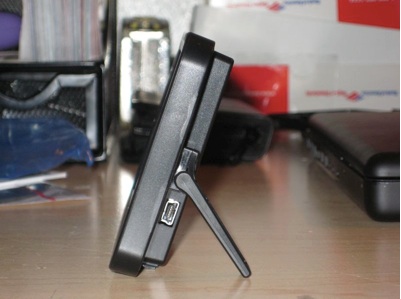 It does seem thick, but there is a lot of unused space in there!
Go ahead and take the LCD and Video card out of the case. You will not need the case anymore after this. Here is the two pieces.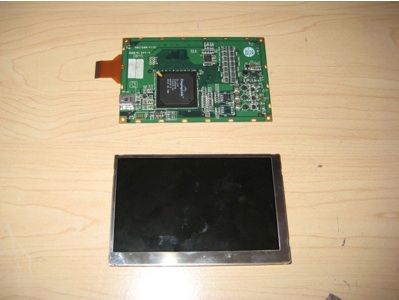 Top-Video Card, Bottom-LCD
Now take the provided USB Cable, Cut the larger end off and you are going to need to strip it all the way down to the 4 wires (green, white, red and black). You will even need to strip down the plastic that covers the plug on the end of the cable.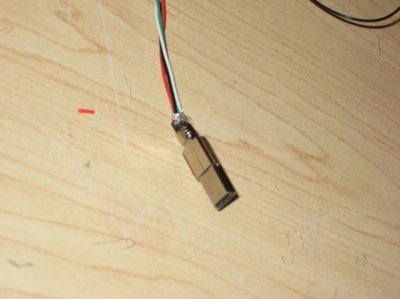 Now after you get all this stripped down, go ahead and plug it everything together. Plug in the LCD to the Video Card with the ribbon cable. Then connect the newly stripped USB into the video card and splice it back together real quick with the end you cut off. This is going to be just a test to make sure the wiring is still all good after stripping since you will be soldering it onto your Logic Board later. You should see a picture on the LCD.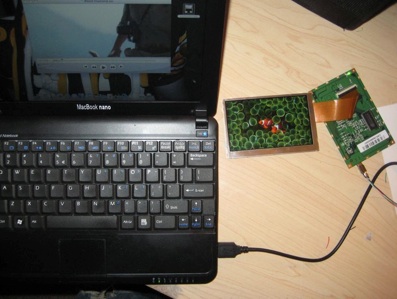 (ignore the MacBook nano, its just a MSI Wind).
You should get a picture. If not, make sure your cables are all the same length. I had some issues with it not working if one was shorter than the other.
Ok now you need to go ahead and disassemble your MacBook. Yes.. this WILL void the warranty. Use the guides at iFixit to remove your Logic Board and Screen (HERE). You are going to need to remove the screen from the bottom half of the computer.
Get down to the Lid of the macbook. Remove that white material and that like cushion stuff and get rid of it and get down to the logo. You need to pop off the Apple Logo. You will notice it is painted white on the inside. You have a couple options. One you can wetsand and buff out the paint or you can replace it with a logo from a ibook or powerbook. It works out really well since back then apple left the logos clear. Super glue this logo down and let it sit for a few minutes.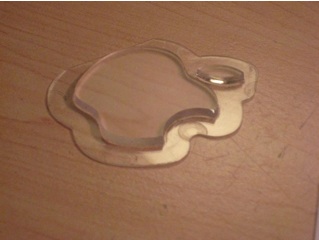 Now time to put in the LCD. Arrange it how youd like, but I recommend doing it like this. Make sure you get the screen centered with the Apple logo.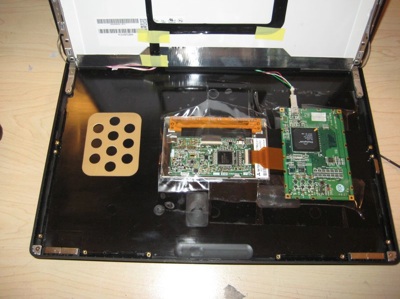 As you can see I just used tape to keep it down. This works really well because you an adjust it if you didn't get it right the first time and also it helps to keep the board shielded from any contact you wouldn't want. Go ahead and plug the usb cable in and run it threw the hinge on the left if your looking at the computer normally when you use it. Leave some slack inside of the screen and go ahead and screw your main LCD back down. Be aware, this is where you are going to notice the flexing of both the LCD and Lid. You are cramming another screen in a area not made for a screen. Mine is fine, it bulges out a bit (as seen in this picture) and you can see some minor flex to the LCD when it displays a black screen. But you cant notice ANYTHING when its showing a picture. 
There is a way around this by dismantling the 4.3 USB LCD even more by removing the USB plug and soldering directly onto the video card and also by removing the board on the 4.3 LCD itself. This is the way I believe this can be done on a MacBook Pro. It will just take a little more work and some patience.
Now run the wires out to the logic board. You are going to want the wires to be under the logic board when it is installed back into the mac. So Just have it laying next to the mac, upside down, so you can solder onto it and just flip it back into the macbook. Solder in this order a shown in the next picture.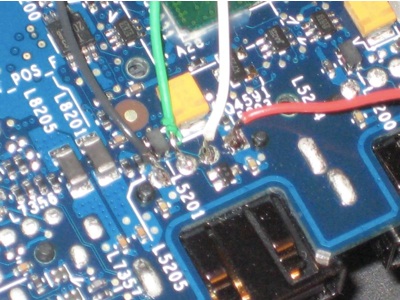 Make sure you cut all the extra slack off and make sure they are kept the exact same length. Now, yes you will lose this USB port. Whenever you plug something into it itll power off the back screen and not power your device. (at least that's what's happened to me). If you can find another source of 5v power on the board that should do fine! But im not that good . Now go ahead and put the macbook back together and go show off your new project! Im sure it will get peoples attention!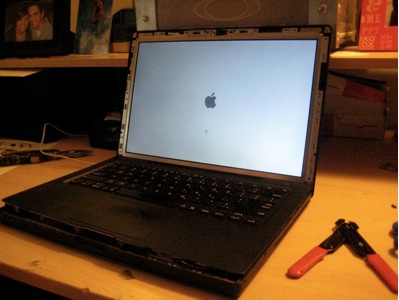 You can purchase the LCDs and this MacBook on ebay. This will be the third time Its on eBay. This first time ebay cancelled the auction due to a Policy issue on links, second time my high bidder bailed out. So now I am going to try once more, if it doesn't sell, im just going to keep it! The LCDs I am selling are the right ones, if all of mine sell, there are others on ebay for a little bit more from China. Just search LCD-4300U. Mine are in the US and will be shipped quick! Email me on this websites contact page if you have any questions or concerns!