As seen on
Hacknmod.com
Wow, It has been a long time since I have posted anything up, I havent been doing many mods lately as I have been moving into a house and being busy with work. But I have found time to do something I have always wanted! A Soda fountain in my house! I really dont even drink that much soda, but the cool factor is threw the rood in my opinion. With this along side of my Pinball machine and Mame Arcade, this is the ultimate bachelor pad!
So I purchased a 8 Head Soda Fountain / Ice Dispensor on craigslist locally. These units are alot bigger than you would think! I wanted it to look like it belonged in my house, and not a huge fountain sitting on my countertop. So I came up with the idea to build the unit into the wall. So the Main fountain is in the pantry with only the front showing. I built a counter top right under the unit and trimmed it in. This makes for a very clean look. The soda lines run threw the wall into my garage where the bag-in-box soda syrups are hooked up to the pumps and the carbonator runs soda water back to the unit. The unit itself actually does the mixing of the syrup/soda water (post-mix system). I built a stand for the syrup as well.
Keeping the system cool is the difficult part and is usually what keeps people away from having a system like this setup in there home. The machine will go threw about 200 lbs of ice in a week. That adds up alot over time! Especially not fun trying to get all those bags home from walmart. So I got a ice maker. I was going to install it on the top of the unit, but decided against it so I could use the Ice for other things as well, like filling coolers!
It all came out very well and I was very pleased! I am enjoying some Dr. Pepper as we speak!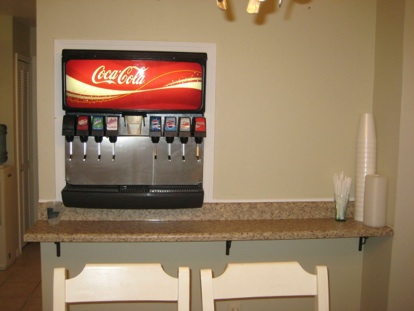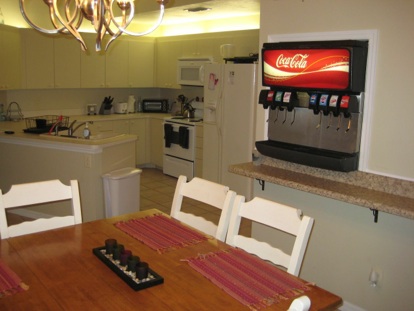 Great Kitchen Addition!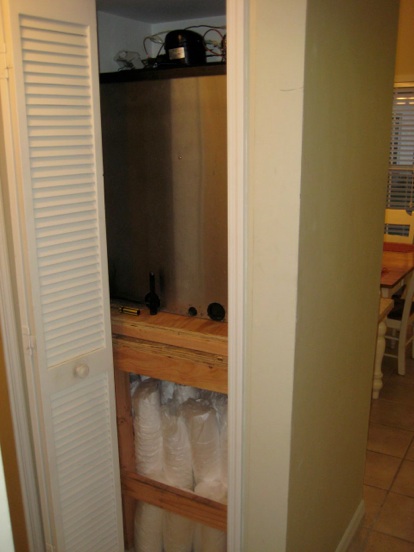 Rest of the unit inside the pantry.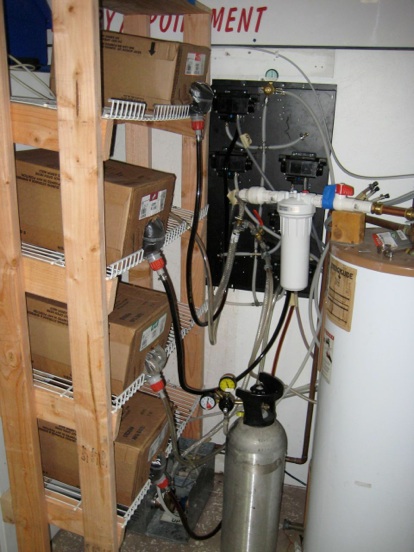 All of the Soda Syrups/Pumps/C02/Carbonator in the Garage being pumped inside.